We are a family owned, locally sourced, whole-animal butcher inspired by our experience of Rome's Mercato di Testaccio. We loved buying meat freshly cut to order from our butchers, the Sartors, while connecting with the people both behind and in front of the counter. We bring you what we loved most about Rome, utilizing the Pioneer Valley's local, sustainable agriculture. Here you get high quality, locally sourced, pasture and humanly raised meat from small family farms with an authentic Italian twist! Visiting the Butcheria is an opportunity to learn, to connect, and to be in community promoting the local economy, sustainability and eating well.
Meet the Butchers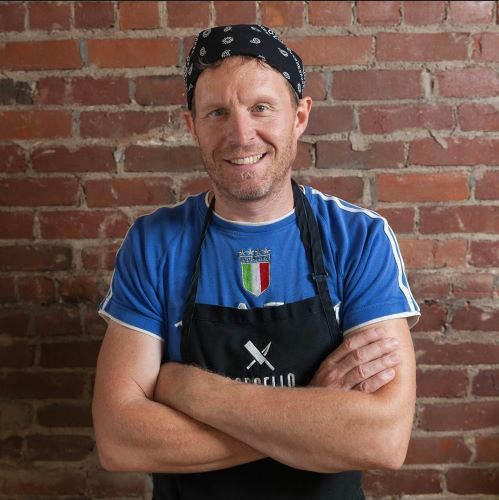 Vincent Corsello
I am Vincent Corsello, vision and owner of Corsello Butcheria.  My dream to open a butcher shop started when I went to Sartor Butcher Stall at the Testaccio Market in Rome, Italy.  I was entranced by butcher Roberta Sartor when she fileted chicken breast for cutlets.  Watching an artist in action sparked a love affair for high quality, custom-cut meat.  I spent the summer of 2016 with the Sartor family in their butcher stall learning about the different cuts of meat, recipes and customer service.  Having experienced it for years on the other side of the counter, I got to trade places and get that hands-on experience.  The sausage recipe is like nothing you'll find in the Valley and I'm bringing an authentic Roman, Italian flavor to the Valley as well as my passion and great personality.  You'll always find me ready to chat and you will be warmly welcomed. Photo by Stefano Secchia Photography.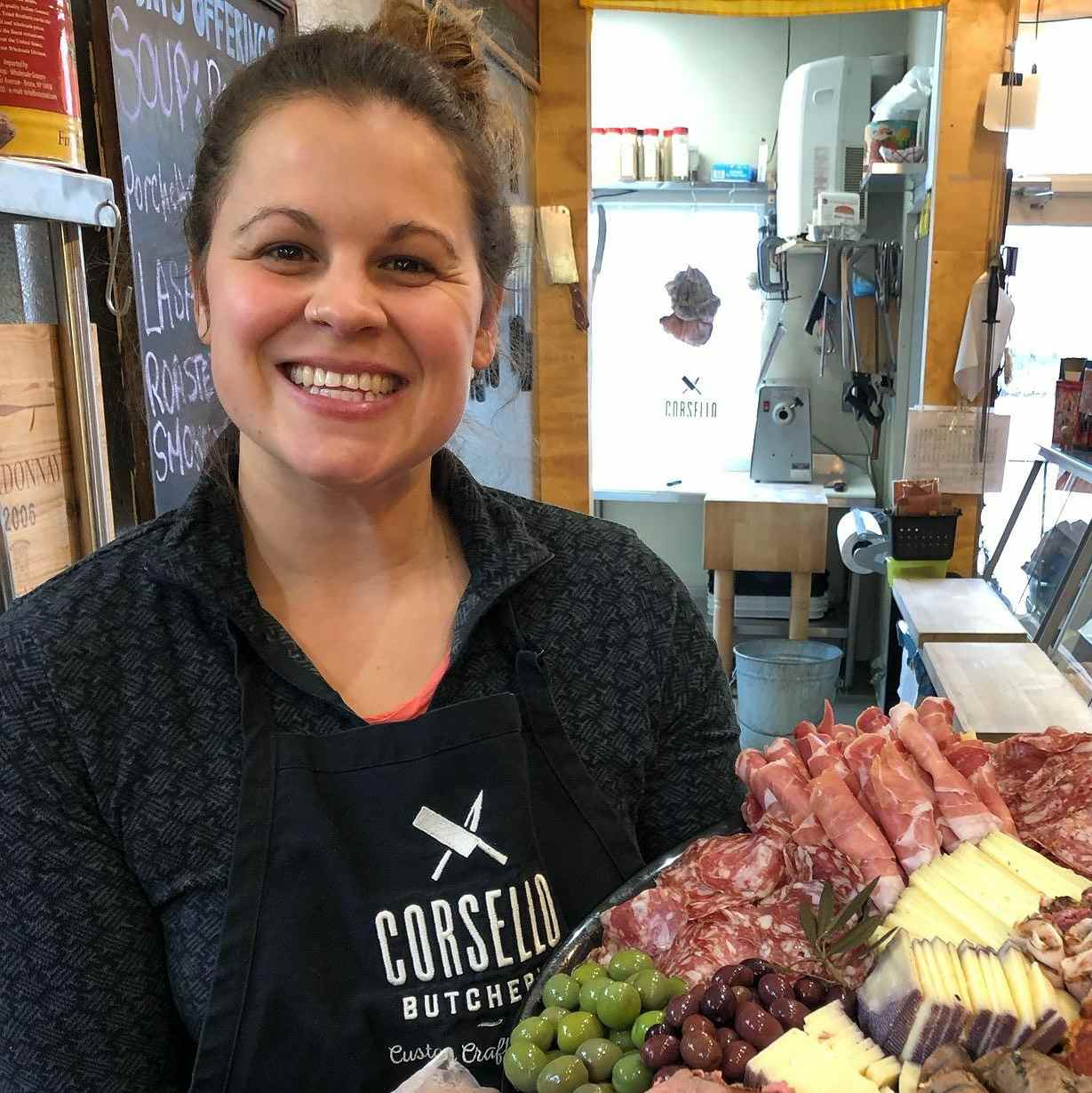 Kasey Calsyn Corsello
I am the other half of Corsello Butcheria.  You'll find my creativity in the shop when you taste one of my sandwiches.  Food has always been a passion for me and while not a trained butcher, I am having a lot of fun learning the trade.  I loved living in Rome, Italy and enjoyed learning about the food culture there.  I enjoyed cooking since I was a child and was thrilled to add many authentic Italian recipes to my collection!  I am passionate about the community of Easthampton and grateful to be adding to the culture of the city.  I'm always excited to connect with customers, to chat about their day or to offer a recipe.  I think cooking is a metaphor for life: It's not about being perfect, it's about the love and joy you put into the process.
Our Farm Partners
Authentic Farm to Table meat requires a strong and real relationship with our farmers. Here are some of our partners.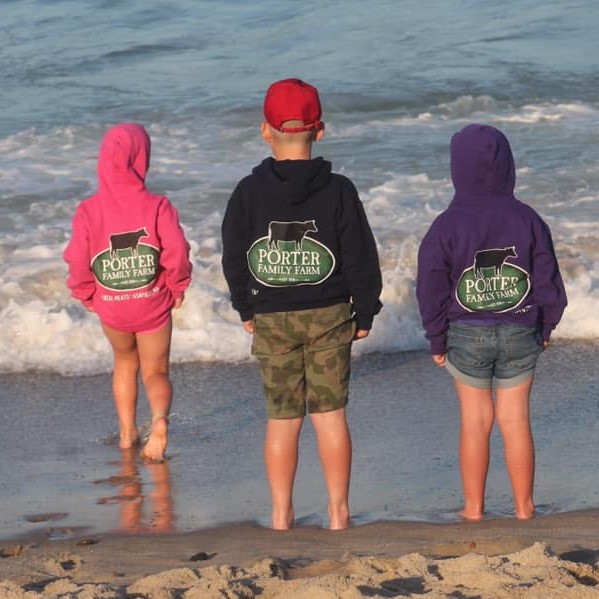 Porter Family Farm
Shortly before we opened Corsello Butcheria, we were having a parent teacher conference with Camilla's second grade teacher, Ms. Porter. We told here about our plans to open and she said her husband Josh was a farmer. The rest is history, and a serendipidous one at that: when I first spoke to Josh, he mentioned he raised Chianina breed of cattle, well did you know Chianina is a 2000 year old Roman breed of cattle? In addition to fabulous beef raised locally and on pasture it's whole life, Josh also raises pigs, and some sheep (lamb), goats, and even rescues dairy calves. Josh and Anne do it right all while raising three young children. So when you support our shop, you are not only supporting one family in your valley, but two, three, four and on. They are conveniently located right off Route 112 in Ashfield, MA on Steady Lane Road.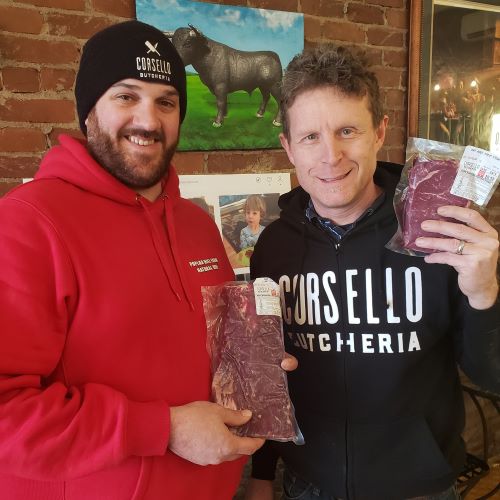 Poplar Hill Farm
Mike is a true modern day farmer of the Valley. He and his brother started raising angus beef cattle after his father stopped farming dairy cattle. He also owns Bear Path Compost. Poplar Hill Farm rasies some fine animals. As a closed herd, all the animals were born and raised on the farm in Whately, Massachusetts. When i met him he had 76 head, they now have over 200 and supply many of the local colleges in the area, as well as some very fine restaurants. Mike showed up at the shop while I was still building out the shop and we've been partnering on projects since.
Reed Farm
I am pleased to be able to offer you AUTHENTICLY pasture raised poultry from Sunderland, Massachusetts. Reed Farm, the real deal, nestled in the Pioneer Valley of western Massachusetts opened in May 2019, providing full service custom poultry processing for farms & backyard growers. They currently offer processing and packaging for chickens and turkeys and sell chickens wholesale to local grocers, butchers, restaurants, caterers, and schools and turkeys retail for Thanksgiving. The Reed farm was founded with the goal of raising healthy poultry for consumption while improving the land. Humane processing is very important to them. You've never had real chicken until you've tried true pastured, grass eating, bug eating, fresh air outdoor living chicken.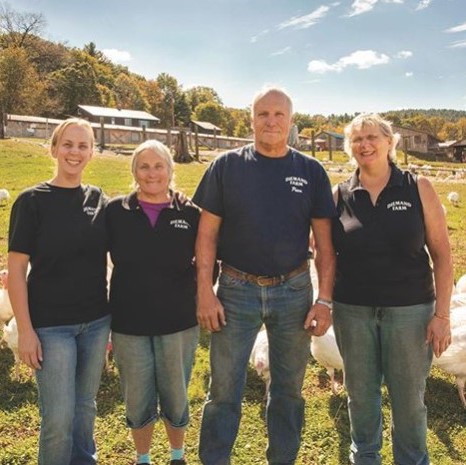 Diemand Farm
Diemand Farm is in Wendell, Massachusetts. A classic family farm in operation since 1936, we mostly get our Turkeys from them. They are lovely folks, doing it right for generations.
Custom Crafted Meats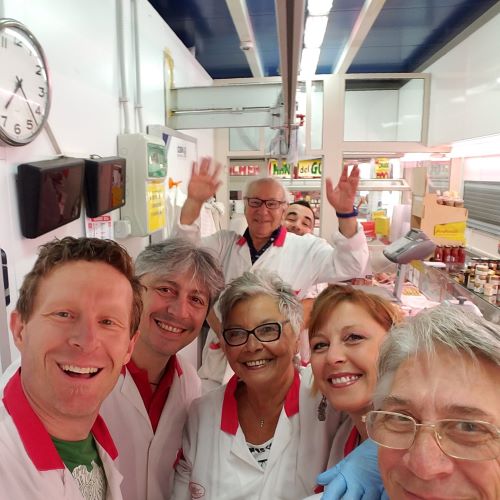 Our Rome Experience
Our very first experience in Rome was watching Roberta cut us breast cutlets starting from a whole bird. At Corsello Butcheria, we give you the same experience. Whether it's boneless legs, cutlets, or just quartering your whole chicken, we do that in front of you so you can be sure you are getting only the freshest poultry, cut exactly the way you want it (and like you cannot anywhere else!).
Quality Local Sustainable Meat from Small Family Farms
When you come into Corsello Butcheria, you will find a case of whole "primals", meaning we cut the whole animal into sections or by muscles. The animals have never seen a cage, have spent their whole lives on a small family farm. Don't know what you're looking at? Don't worry, we didn't at first either; together we can explore new things and share our experiences to create simple, easy yet incredibly delicious meals for you and those whom you hold dear.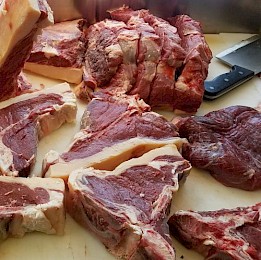 Custom Cut
When you come to buy meat, you will get exactly the size, thickness, or quantity that you are looking for without pretension. We cut, grind, slice and dice to your specifications and in front of you, so that it is always transparent just how fresh your meat is. It's part of the experience and it ensures you are obtaining the freshest and highest quality meat.