Charcuterie Plates
Impress your guests or be the star the next party to which you are invited!
Our mix of housemade, local and imported charcutterie is sure to dazzle!
We offer an assortment of charcuterie plates which will delight those with whom you share it!
Meat only and meat with cheese plates are available, starting at $25 as a rough guide serving in increments of 5 people.
Call us, to get the perfect charcutterie plate or board for you!
Call us or come to the Butcheria to purchase!
'NDUJA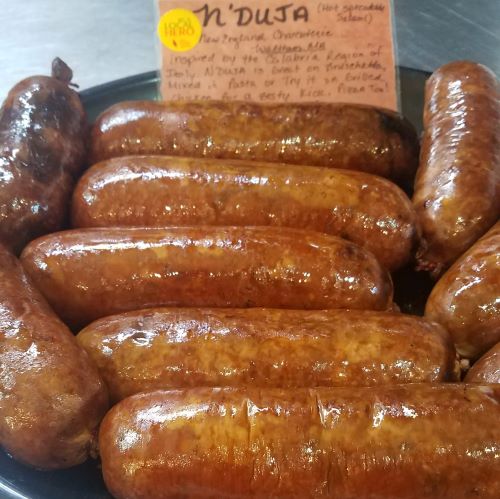 'Nduja is from Calabria. Calabresi are also know for their "pepperoncini" or hot peppers. Much of their food is seasoned and spicy, like their characters. Traditionally 'nduja is made with pork, pork fat, that's what makes it spreadable, salt and hot peppers. It is then smoked and cured.  At Corsello Butcheria, we make a version using Italian Proscuitto, our own local cured smoked pork fat, and locally grown Calabrese hot peppers. We stuff it in casing and house smoke it for a fantastic tasting snack. Spread it on toasted bread, add some to your pasta or dab it on pizza!
Call us or come to the Butcheria to purchase!